Okay, confession time: I stole the title "What I Read Wednesday" from my dear friend Carol. It has a really nice ring to it, though, so I'm gonna run with it (Remember, Carol, imitation is the purest form of flattery).
So, without further ado...Here's my review. (Hey I made a rhyme!)
Hailee
By Penny Zeller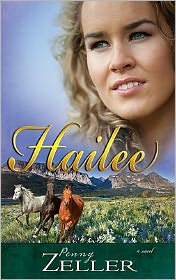 For years, orphan Hailee Annigan was just a ragamuffin in the Cincinnati streets, stealing food to keep her two younger brothers fed.

Her thievery landed her in a home for delinquent youngsters, where her life was changed, thanks to her teachers.

Now, nineteen-year-old Hailee excitedly heads to Montana to be a teacher, yet she's still plagued by her shameful past and the fear of never seeing her brothers again.
Based on his upbringing in high-society Boston, no one would have guessed that Maxwell Nathaniel Adams, Jr. would attend seminary and become a church pastor in rugged Montana. Even now, Nate's parents refuse to put aside their own plans for his future and accept his calling.
When their paths converge, an immediate attraction draws Hailee and Nate together, even as the pressures and demands of others pull them apart. Can the unlikely pair come to terms with their pasts and face the future together?
Andrea's Take:
My very first impression upon opening the package from the publisher was this, "That girl [the model] is pretty. Who does she look like?" Then I stared at her face until I figured it out. She looks a lot like a cousin of mine, which I thought was pretty cool.
So we were off to a good start, Hailee and I. Then I opened the book and got acquainted with this faithful and adventurous young woman who warmed my heart.
As I read on, I met Nate, the pioneer pastor with the same commitment to his calling – a commitment strong enough to hold its own in the face of strident opposition from Nate's parents.
Each of them saw God open a door, and walked through it without hesitation, even though the path on the other side was uncertain.
Some other noteworthy characters are:
Lucille Granger, the town gossip –
Mrs. Granger never failed to make me smile when she appeared on the page, and she has a scene in the second chapter that had me laughing out loud. Even my very stoic husband got a chuckle when I read it to him.
Zach Sawyer, Nate's uncle –Uncle Zach is a wonderful sounding board and advisor for Nate. A pastor is so often the giver of wise council, and sometimes it seems he has all the answers. People often forget that the pastor—especially a young one like Nate—sometimes needs advice from older, more experienced Christian men. Zach fills the role of Nate's wise councillor well and willingly.
Clint and Tommy Dickenson, Nate's much younger twin cousins – I have it on very good authority that Clint and Tommy are some of Ms. Zeller's favorite characters in this book (that is if you consider the author "good authority"). A more good-hearted and mischievous pair, you've never read. In my family, we'd call them "ornery," and they certainly live up to that moniker.
Reuben Annigan – Too much about this character would be a spoiler, and I want you to read this book. But I will say this much, he enters the story late, and I didn't get enough of him. His background touched my heart. If Ms. Zeller decides to write a fourth installment to Montana Skies, Reuben gets my vote for the hero.
The ending is just the kind I like. Hailee and Nate have a major hurdle to jump on their way to happily ever after. I don't think it's too much of a spoiler to say that they stand firmly together, supporting one another to the end. I love when the story gives the reader a chance to see the power of love in action between two people.
This story does just that.
Hailee
is the third, and final, novel in the "Montana Skies" series.
I did not read the first two books, but I think the references to them in this final volume are enough to keep loyal readers satisfied, without distracting new readers from
this
story.
The last two chapters wrap the series up beautifully, tying up the loose ends left from all three stories (except that Reuben still needs a story, of course).
I received my copy of
Hailee free from the publisher. All the opinions in this review are my own honest impressions.
Hailee
, along with a few other books, is going to be up for grabs in a big giveaway in October. More on that later, but be on the look out!