This is it. The last day of the Andrea's Take Blog Birthday Bash! With the last day, comes the last giveaway. And it's a good one. Anne Mateer's debut novel Wings of a Dream.
Click here
to read my review of this lovely coming of age romance...I'll wait.
And now that you're back, let's welcome Anne Mateer!
What is something about you that is little known to your readers?
I am a sports fanatic. I love my Dallas Cowboys, Texas Rangers, and Dallas Mavericks. I have also been that crazy parent on the sidelines while watching my kids play sports! :)
What was it that made you start writing stories?
I've been a voracious reader since kindergarden. By late elementary, I learned the joy I received from putting words together to form stories or poems. By the time I actually started writing with an eye toward publication (in my early 30s), I actually had learned things about God and life that I wanted to convey to others. Since I love reading fiction and learn most easily through story, it became natural for my thoughts to come out in story.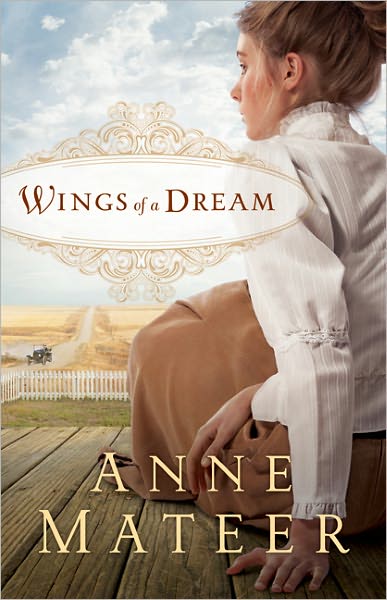 What inspired this particular story?
Wings of a Dream was inspired by my great-grandparents' experience during WWI and the Spanish flu epidemic. I became especially inspired to write it as a novel after my grandmother passed away in January of 2000.
What scene in Wings of a Dream stands out as your personal favorite?
I think my personal favorite scene is the possum getting into the house and Rebekah having to deal with it. Not only is it a fun scene, I think it illustrates Rebekah's inner journey through the story.
What has been the most pleasant surprise about getting your book published?
The support of my family and friends. I knew they were all happy and excited for me, but they have gone above and beyond kind words. They have bought the book not only for themselves but for others, they have celebrated with and for me, and they have on their own helped spread the news to their own circles of friends and family. I have been frequently brought to tears by their words and actions of support for the book.
What has been your biggest challenge?
For me, the biggest challenge is in public appearances. I've done a couple of book signings and a library event, and while they all went well, it is a struggle for me to be "on" in a crowd of strangers. I'm truly an introvert. I prefer small groups. But the Lord is obviously using my weakness to display His strength! I'm grateful for the challenges and the opportunities, but I'm completely exhausted when they are over!
As a debut author, what words of wisdom do you have for those of us trying to break into the writing industry?
Keep writing. Keep learning. Keep reading. Oh--and get used to a writing schedule of several hours a week even before the contract comes, for many publishing houses will want more than one book and usually want them a year apart. That is much harder to do if you haven't already been used to working at a steady pace each week.
Can you tell us a little about what is coming up for you?
I have a second book coming out in September of 2012. No official title so far, but I can tell you it is about a girl who is passionate about missions and auto racing--in 1916! After that, we'll see what the Lord has planned!
Anne, I'll be keeping my eyes open for the next book. Thank you so much for sharing and for helping celebrate my "birthday."
Readers~
You may now begin commenting to enter the drawing, or (just to get your 2 cents out there). For extra entries you may do any/all of the following
1. Follow/Subscribe to this blog
2. Follow Anne's blog, which you'll find here:
www.annemateer.com
(I've been there, and I love it.)
3. Like Anne on
Facebook
. (I did that too :)
If you choose any extra entries please leave separate comments. I'm doing the random drawing myself, and I'd hate to miss one. The giveaway closes at 11:59 pm on October 16.
To all the entrants--This is important!
Drawing for all giveaways this week close at 11:59 pm on Sunday, October 16. I will post winners on Tuesday, October 18.
If I have email addresses for you, I will contact you. If not, you'll have to come back here to find out. If I do not hear from any winner by Sunday, October 23, I will choose a new winner.
Thanks so much for your patience with this newbie. Keep those comments coming!