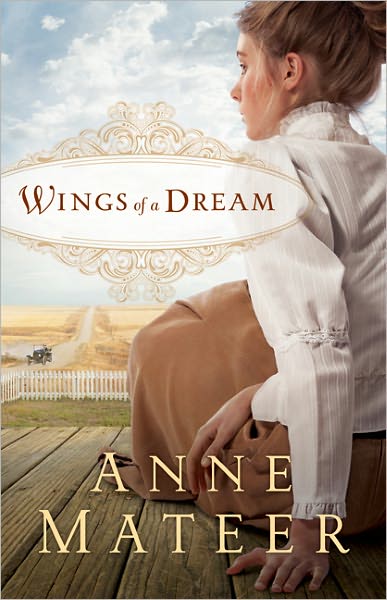 From the Cover:
Rebekah Hendricks dreams of a life far beyond her family's farm in Oklahoma, and when dashing aviator Arthur Samson promises adventure in the big city, she is quick to believe he's the man she's meant to marry.
While she waits for the end of the Great War and Arthur's return, her mother's sister falls ill. Rebekah seizes the opportunity to travel to Texas to care for Aunt Adabelle, sure that her glamorous and exciting life is about to start.
But the Spanish flu epidemic changes everything. Faced with her aunt's sickness, Arthur's indecisiveness, and four children who have no one else to care for them, Rebekah discovers she must choose between her desire to escape the type of life she's always led and the unexpected love that just might change the dream of her heart.
Andrea's Take
Wings of a Dream is the debut novel from Anne Mateer. It is written in first person point of view, which slowed me down a touch at the beginning of the story simply because I don't read a lot of first person work. Once I got used to it, I flew through the story.
Rebekah Hendricks is the viewpoint character. The entire story comes to the reader through her eyes. Ms. Mateer makes good use of this limited scope. Rebekah has a few men vying for her hand. With the first person point of view, the reader is as uncertain as she is what course she will take.
It is clear to the reader right away what Rebekah wants – adventure in the big city. This goal makes Rebekah a universally sympathetic character. What country kid hasn't dreamed of big city life?
If her dream makes her sympathetic, her follow through is what makes her admirable. When she commits to care for Aunt Adabelle, she has no idea what is in store. When the worst happens, Rebekah takes on four children. Later, when her dreams seem to be falling apart all around her, she remains steadfast, her faith assuring her that some things are more important.
Wings of a Dream is a romantic story, but it is so much more. It is the story of a young woman's coming of age at a time in history when life held all the uncertainty of war and disease. When tradition was tested and sometimes discarded for new and flashy, Anne Mateer gives us a character willing to hold herself to God's standards and lay aside her own plans in favor of His…trusting that He knows what will make her happy better than she does.
Anne Mateer is a new author worth watching.
I received my copy of
Wings of a Dream complimentary from the publisher. I have not been compensated, and all the above remarks are truly my own opinions.