Okay Readers,
After a relatively brief post yesterday (to stave off "feeling funny"), we are diving back in with a splash. Today's author is a new favorite of mine, and I cannot
believe
I'm giving her book away. I know whoever wins this one is in for a great read. I could go on and on about this book. Instead, please
click here to read my review.
Now, without further ado (I love that phrase) Welcome Elizabeth Camden!
What is something about you that is little known to your readers?
Well Andrea, I am afraid I am a pretty boring person. The only thing that is surprising about me is the fact that I write books in my spare time. Almost no one knows that. I work as a librarian at a small college library, and because I am notoriously private and paranoid about my writing, I never talk about my books. So no one knows! Not my neighbors, my co-workers, no one. My husband knows, and so do my parents. My mom let the cat out of the bag at a family event, so my immediate family knows. Aside from that? If people know that I write novels, they have not told me!
Let me say here, that they just don't know what they're missing.


What was it that made you start writing stories?
Have you ever fallen in love with an art form so badly that you wanted to go beyond simply enjoying it, and start producing it? I think this is how most artists, musicians, and writers get lured into their craft, and it was the same for me. Reading has always been such a significant part of my life that I got to the point I wanted to try producing the kind of novels that had such a major impact on my life.
One of my favorite romantic plots concerns lovers who are reunited after several years apart, so this was the theme I wanted to start with. In The Lady of Bolton Hill, Daniel and Clara were quite young when they met and shared one of those intense, immediate bonds that can sometimes flare up between teenagers. They were separated by Clara's disapproving father. The book begins when Clara returns to the United States after more than a decade abroad, and the chemistry between Clara and Daniel immediately blazes back to life. The problem is they have followed such wildly divergent paths that they don't know if they can find a way back to each other, even though they both crave it.
Something that was very important for me is that both my characters be very passionate people, but who are still fiercely intelligent and sensible. Have you ever read a book where the conflict between the hero and heroine could be solved by a simple honest conversation? There was no way I was going to let Daniel and Clara off the hook so easily! Although it is clear they are madly in love, they will be put through the wringer before they can get to a happy ending. I love a good turbulent story with love, betrayal, heartbreak, all punctuated with periods of soaring joy and utter delight. That is what I aimed for with The Lady of Bolton Hill. I'll be curious to hear from folks if they think I got it in the ballpark.
What scene in The Lady of Bolton Hill stands out as your personal favorite?
Any scene with Bane in it! For those who haven't read the book, I needed a villain in the story to make the hero's life really miserable. My first impulse was to make the villain one of Daniel's business rivals, some big, scary guy motivated by greed and filled with malice. Hint to aspiring writers: Never go with your first impulse! That first impulse is usually an obvious and boring choice. I deliberately conjured up the exact opposite of the obvious villain, and came up with Alexander Banebridge. Bane is a seventeen year old boy, angelically beautiful, with a wicked sense of humor and motivated by the intellectual challenge of committing the crime of the century.
Bane was immense fun to write about, and judging from my in-box, the readers thought so too. Probably two of every three letters I get ask for a sequel starring Bane. I am pretty sure I will be able to deliver that book within the next year or two, but am still keeping my fingers crossed.
Pardon my interruption again. I must say that this is the best news ever! I did some serious happy-dancing when I first read this.
As a debut author, what words of wisdom do you have for those of us trying to break into the writing industry?
I think the key is to find your own, unique voice. Like most people, when I first started writing I emulated my favorite writers in terms of tone and the feel of the plot. Those manuscripts didn't sell, and looking back on them, they deserve to languish in the bottom drawer where they now live. Not that I regret writing them. Those were the manuscripts where I was flexing my muscles, trying out styles, and pushing some boundaries. It was through writing those books that I started to find my own voice, rather than emulating others.
Of course, getting rejection is no fun. After a few years of it, I
was convinced I was awful and I needed to let go of my irrational dream to publish a novel. But the thing was, I
liked
writing. I liked everything about it and didn't want to quit, even if no one ever read my work. That gave me the freedom to be a little more risky in the type of manuscript I submitted to agents. This was when I finally found my voice and things took off for me…. and it took off fast. I think it may have been a willingness to critically assess my work and take some strategic risks in stretching the genre that finally bumped me up to the next level.
If you really like writing, try not to let the rejections get you down, but don't keep doing the same thing. Critically assess your work without being defensive. Take advice, but don't be afraid to break rules and push boundaries. Those rejected manuscripts are your proving ground, your practice field for finding your voice. I am actually very grateful for my experience with rejected manuscripts, because by the time I finally crossed the finish line into the realm of the published, I have arrived with a very distinctive voice that took me years to develop. I am grateful I did so in private!
What has been your biggest challenge?
Developing a healthy attitude toward rejection! It took me a while to understand the role it plays in honing a writer. So be brave. Play with different styles, settings, maybe even genres. This is how you will find your voice.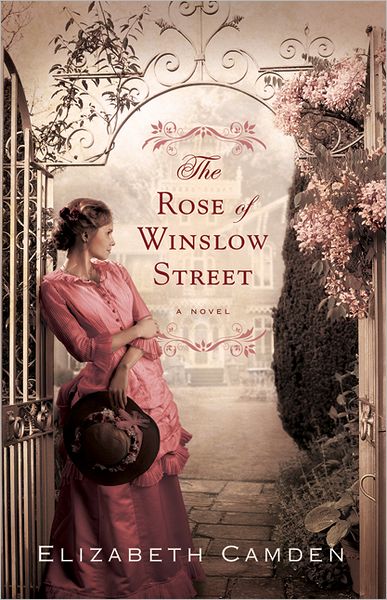 Can you tell us a little about what is coming up for you?
My next book is another historical called
The Rose of Winslow Street
, and will start hitting the shelves in late December. It is set in a peaceful, idyllic village in New England in 1871. The heroine is an artist who is not particularly happy with her life, and is preparing to "settle." Into this peaceful setting comes a brash warrior from Romania, who storms into town with a wealth of mystery, long-buried secrets, and a heart as wide and deep as the Atlantic Ocean. He is a strong, fearsome man, but pretty quickly he develops a soft-spot for the heroine, which is a huge complication for him. It is hard to say more without delving into spoiler territory, so I'll leave it at that for now.
I blog at
http://elizabethcamden.com/blog
Three times a week I write about my thoughts on the romance genre (in novels, movies, real life, etc.) Since I am a librarian, I also post lots of pictures of mouth-watering libraries. I hope you'll swing by for a peek!
Thank you so much, Elizabeth for the interview and for the great news about what I will call "Bane's Book." My fingers are crossed (so are my toes and my eyes!) that it will knock their socks off at Bethany House.
~ ~ ~ ~ ~
Elizabeth~
Thanks so very much for helping me celebrate my blog's birthday!
Okay readers, we are now open for entries. Just leave a comment to be entered in the drawing. You can get an extra entry by following my blog or subscribing by email. And another if you subscribe to Elizabeth's blog. I just did.
If you choose any extra entries please leave separate comments. I'm doing the random drawing myself, and I'd hate to miss one. The giveaway closes at 11:59 pm on October 16.