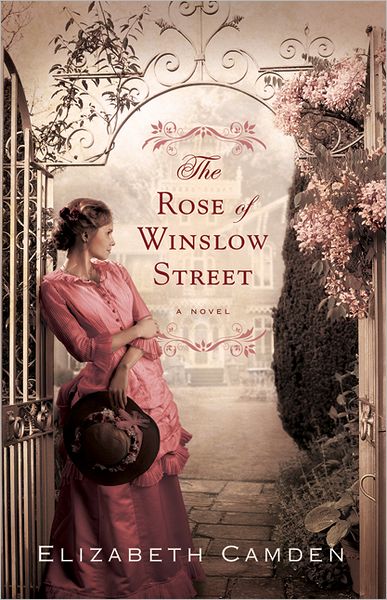 From the Cover:
In the small town of Colden, Massachusetts, Libby Sawyer leads a quiet, predictable life. Yet beneath the surface, she is haunted by a secret.
Newly arrived on American shores, Michael Dobrescu is far from predictable, and his arrival in Colden is anything but quiet. Michael's shocking claim to be the rightful owner of Libby's father's house immediately alienates him from the appalled citizens of Colden.
Despite her own outrage, Libby is unwittingly fascinated by this enigmatic man who seems equally intrigued by her. As the court's decision about the house looms and the layers of mystery surrounding Michael's past are unveiled, Libby's loyalties are tested in ways she never imagined.
Andrea's Take:
I approached this, Elizabeth Camden's second book, with caution.
I needn't have worried. She absolutely did do it again.
The Rose of Winslow Street has a cast of the most interesting and unique characters I've ever read. Libby has an amazing talent as well as secret she's ashamed of, and she has a father who takes advantage of the first and never lets her forget the second. Even so, she loves her family deeply. Her loyalty to them - though severely tried - remains strong, even if they don't always return it.
Michael has an unusual gift, which I would never have thought to give to such a big, tough-guy hero. But it is as much a part of him as his large stature and rough, foreign ways. He too is fiercely loyal to and protective of his family, so much that he will, and does, alienate himself from his neighbors and the Sawyer family. His audacity is jaw-dropping in several scenes.
Though their loyalties clash and they drive one another crazy, Michael and Libby share a sense of fair play that won't allow them simply to write each other off as enemies, no matter how badly they want to. It is on this foundation that Camden builds their romance, and it is a lovely thing to watch.
All the while, the subplots are unfolding in the background that seem unconnected to the romance. But when they come together, they show how God, in his great love for his people, weaves every detail of our lives into a most beautiful tapestry.
Sibling rivalry plays a part in the lives of both characters, especially in Michael's, where I noticed parallels to the biblical story of Ishmael and Isaac.
I recommend this story to anyone who wants to read a captivating story of the love between a man and a woman and the love of God for his children.
Character to watch: Mirela - Overcoming unspeakable pain, she blooms where God plants her, much like her family's famous roses.
***** 5 brilliantly shining stars
(Note: I gave away my copy of

The Lady of Bolton Hill in my birthday bash last fall. Don't look for this one in the next giveaway because I have no plans of letting it go. :)