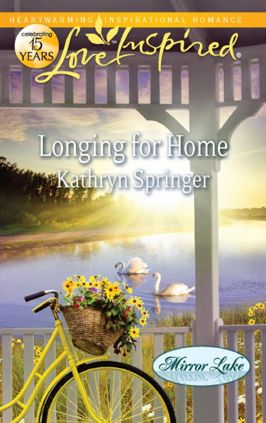 From the Cover:
It seems like the perfect solution: hotel mogul Alex Porter will manage his sister's small-town bed-and-breakfast while she honeymoons. But he gets more than he bargained fore when he finds himself clashing with feisty cafe owner Kate Nichols. Suddenly he's organinzing church outings and playing surrogate dad to the foster children Date takes in. Alex is used to taking charge--but not like this! If he isn't careful, this big-city executive just might lose his heart to Mirror Lake's favorite hometown girl.
Andrea's Take:
Longing for Home
is the fourth book in Kathryn Springer's Mirror Lake series. Alex and Kate clashed--I mean met--for the first time at the end of
A Place to Call Home
, the first book in the series. Right away, I thought they should get their own story.
I love when an author takes a character I can't stand, shows me what makes him tick, and makes me love him. Alex Porter is one such character. To this point in the series, he is the rich city boy who thinks he knows better than everyone about everything and has no use for the small town where his sister has chosen to settle. Not exactly a likable guy.
Kate Nichols is the rare small town girl who never wanted to be anything else. Her town, her diner, and her church are her life, and she's happy with things as they are. Alex's dismissive attitude regarding all those things infuriates her. The resulting fireworks are certainly a sight to behold.
In
Longing for Home
, we see behind Alex's icy facade to the big brother who only wants to protect himself and his sister from the hurts of life. When those protective instincts rise up and encompass Kate and the two children she's fostering, she can't help opening up to him as well.
Just when you think they've got it made, a final speed bump slows them down and makes them think it over one last time. Their road to Happily Ever After is by no means smooth, but in the end it's definitely worth the trip.
This book is my favorite in the series so far. I give it 5 brightly shining stars.
Longing for Home
is a January 2012 Love Inspired release, and may be unavailable in print. It is available in digital format.
Click here to purchase it at Barnes and Noble.