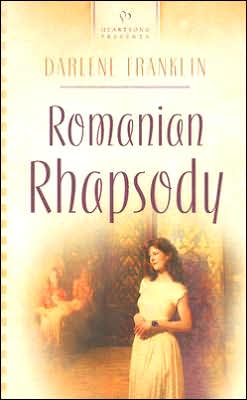 From the Cover:
"The Lord is good unto them that wait for him...It is good that a man should both hope and quietly wait for the salvation of the Lord."
~Lamentations 3:25-26
Haunted by the orphans she met in Romania, Carrie Randolph returns to work in an orphanage. Soon she finds herself mothering five toddlers full-time and dreaming of adopting on of them when her two-year mission is finished.
Steve Romero's wife and son died in tragic circumstances in Romania, and he struggles to put the past behind him. When he decides to adopt a child, he returns to Romania and the orphanage where Carrie works--breaking her heart when he chooses Viktor, her favorite.
Will Carrie trust God to fulfill her dreams in His time? Can Steve let go of grief and love again?
Andrea's Take:
****
4 Stars
Romanian Rhapsody
is the story of two people whose lives change irrevocably after one shocking, tragic event. It is the story of how their paths crossed, and parted time and again until the time--God's time--was full for them to join forever.
After grieving his losses for a time, Steve finds his heart once more open to give and receive love. He decides to adopt a child and proceeds prayerfully through the necessary channels. Carrie finds her heart likewise open to love as she's surrounded by affection starved orphans. Both Steve and Carrie set their hearts on the same little boy--Viktor. Apart, one of them is destined to suffer. Together, perhaps they can find happiness, and God's perfect will for all of their lives.
Romanian Rhapsody
is a very good story, the characters and plot well-developed in the short format of Heartsong Presents. Though there is little room for extensive back story, the author uses her words wisely and gives the characters a close connection early on. Carrie's youthful preference for action over prayerful consideration causes her some heartache, and she suffers loss akin to Steve's during her work in the orphanage. She learns to wait on God and trust Him with her plans and is blessed for it in the end.
Characters to watch are Viktor Groza, the little boy who captures both Steve and Carrie's hearts, and Michelle Miller, Carrie's friend and fellow mission worker.
* * * * *
Well, that was the promised book review. And now for the announcement.
Romanian Rhapsody along with its two sequels Plainsong, and Knight Music will be the subject of a special giveaway on this blog after the first of the year. I will be featuring those two books, also by Darlene Franklin, in the next two editions of What I Read Wednesday. "Stay tuned" for more information on this giveaway next week.