My best friend in the world is publishing her first novel in a month. But you don't have to wait to experience Melissa Jagears's authorial brilliance!
Love by the Letter
is a prequel novella, and it
is FREE right now on Kindle.
Here's the blurb:
Dex Stanton has never had much time for book learning. He's been too busy helping to provide for his family. Now that he's heading west, Dex is hoping to start a family of his own. However, his attempt to acquire a mail-order bride fails miserably when the lady writes back ridiculing his terrible spelling. Rachel Oliver may be the last person he wants to know what a dunce he is, but she's also the smartest woman in town--and it's clear he needs her help.
Rachel Oliver has lingered in town for three years secretly mooning over Dex Stanton, but now she's done. If the fool wants to write to a mail-order bride company, so be it. Once she begins giving Dex lessons, however, Rachel realizes she may not be prepared to give up just yet.
As their time together runs short, can two of the most stubborn people in town set aside their pride long enough to find love?
And here's my review on Amazon:
Christian writers must maintain a delicate balance between romantic tension and Christian purity. Melissa Jagears has walked that thin line like a pro. And she has done it in the shortened format of a novella. The characters tugged at my heart and had me laughing out loud. The pace of the story is ideal and the conflict believable. Love by the Letter is a masterful debut. It is sure to make readers crave more of Dex, Rachel, and their friends in her upcoming novel A Bride for Keeps. I for one can't wait for it!
Here's the link...so GO! Purchase it!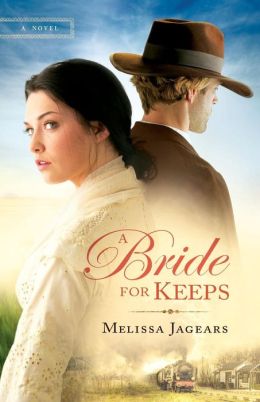 You won't regret it, and when you're done reading it you won't be able to stand the wait for the upcoming novel A Bride for Keeps (Available for pre-order NOW on Amazon and Barnes & Noble).
Just look at that cover! Isn't it beautiful?
The story inside will not disappoint either. I've read A Bride for Keeps a couple of times at various stages in its development. It gets better every time, and I can't wait to see the final product.