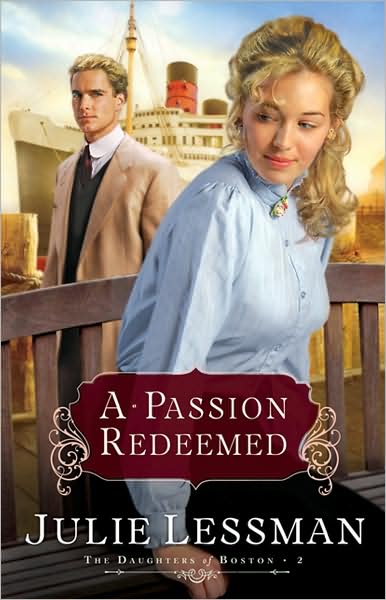 I confess to you that I read this book months ago and am only now getting the review written...and late in the day at that. Please forgive my tardiness and enjoy the book review.
From The Cover:
No man can resist her charms. Or so she thought.
Charity O'Connor is a woman who gets what she wants. Her stunning beauty and flirtatious ways have always succeeded with men. Until Mitch Dennehy, that is. Brilliant and dangerously handsome, Mitch is a no-nonsense newspaperman who wants nothing to do with her. Charity burned him once, destroying his engagement to the only woman he ever truly loved. He won't play with matches again. But Charity has a plan to turn up the heat, hoping to ignite the heart of the man she loves. And she always gets what she wants--one way or another.
Or does she? Will her best-laid schemes win his love? Or will her seductive ways drive him away forever?
Book 2 in the Daughters of Boston series, A Passion Redeemed will captivate your heart and stir your soul with a story of faith and redemption rising from the ashes of temptation, desire, and shame.
Andrea's Take:
The title of this book might well have been "A Woman Redeemed," for that is one of the major events in the story. Charity O'Connor, no longer simply a spiteful, vengeful, and jealous younger sister, becomes real in A Passion Redeemed.
We find that she is fiercely loyal and deeply loving (qualities I feared at one time she lacked completely). We follow her on a journey into her past that is both tragic and liberating. It is a journey that teaches her (and us) the root of the jealousy and insecurity that plague her in A Passion Most Pure.
Through all of this, Charity tries again and again to redeem herself. Some of her schemes make me want to lecture her. Others make me want to shout at her. But she is teachable. With every failed scheme, she gets closer and closer to the Truth of Christ and what He offers. When, finally, she reaches her lowest point, she knows without a doubt where to turn for refuge. It is surely enough to soften all but the hardest of hearts (and maybe even them).
Charity in A Passion Most Pure I would gladly have slapped had she been my sister. That same character in A Passion Redeemed, made my heart cry out with sadness at the hand life had dealt her. Julie Lessman is a masterful story teller to have created a character and story that evoke such a wide range of emotions.
Mitch, Faith's well-loved fiance from A Passion Most Pure (sadly for him, not quite so well-loved as Collin), learned his lesson once with Charity. He means to have nothing more to do with her. Ever. But he simply cannot stay away. Ultimately, he must face demons from his own past while helping Charity deal with hers.
I think it's not too much of a spoiler to say that both find their own answers. They learn that love is so much sweeter when we wait on God's timing.
I quipped about the title in my opening line, but in reality I think A Passion Redeemed is the perfect title for this book. Charity is a passionate woman. There is nothing wrong with being a passionate person. However, throughout both books, Charity often allows that passion to lead her astray. When she places that passion in God's hands, He does indeed redeem it. He turns it into something pure and wonderful that she can use to glorify His name.